Fort Lauderdale Real Estate & MLS Listings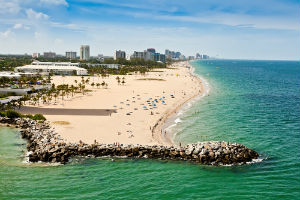 Known for its intricate system of waterways and dozens upon dozens of boat slips, Fort Lauderdale is, not surprisingly, a major destination for any amateur or seasoned mariner.
Fort Lauderdale real estate offerings support this lifestyle, with many homes bordering a water way and offering dockage. For a more secluded home, Fort Lauderdale has a host of communities with quiet streets.
Fort Lauderdale Homes for Sale
It's not hard to find your ideal home within Fort Lauderdale, particularly given the sheer size of its city center and surrounding areas. The market has single family homes in gated communities, condos downtown, and townhomes near the water—the choices are endless. Living in Fort Lauderdale homes means enjoying year-round sunshine, plenty of attractions, and a lifestyle that pairs with the pace of a hub city.
The city is home to a blend of architecture, depending on the character of the community. From Contemporary to Mediterranean to Key West, Fort Lauderdale homes for sale are influenced by the Sunshine State's history and architectural leanings.
Fort Lauderdale's economy is driven by the natural gifts attributed to it. The water serves as a gateway to the many yachters charting for southern waters or sailing over for the annual boat show, which is the largest in the world. From oceanfront condos, residents watch the cruise ships and yachts soar by along the waves of the Atlantic Ocean.