Boca Raton Real Estate & MLS Listings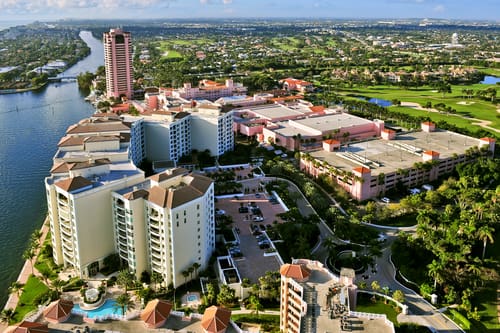 Below you will find the current homes for sale in Boca Raton, FL. Read more to learn about its communities.
Boca Raton real estate is some of the most luxurious and exquisite in the world, with properties spread among peaceful neighborhoods, gated enclaves, and stylish mid and high rises located on lush expanses of tropical land, plush golf courses, and the dazzling azure water.
With more amenities, services, and attractions than you can imagine, Boca Raton is the place to engage in rest, relaxation, activity, and vibrant culture.
Boca Raton Real Estate Market
Boca Raton homes for sale are diverse, with an extensive selection of housing types and styles. Golf and country club communities, waterfront homes, condos, townhouses, and single-family homes comprise the selection of Boca Raton homes for sale, all built with exceptional architectural panache and high-quality construction. Many homes feature classic Mediterranean-inspired styles and designs, with others are built in avant-garde, contemporary Florida styles.
Enjoy the sunrise over the sparkling Atlantic Ocean from your waterfront home, or listen to the gentle waves of the intracoastal waterways from the kitchen. Golf and tennis aficionados will feel at home in the multitude of golf and country club communities with their own clubhouses and amenities, as well as many social events and services. Gated communities provide comfort and security, with many recreational amenities and services offered as well. Regardless of your lifestyle or housing preference, the range of Boca Raton real estate provides something for everyone.
Luxurious Living In Boca Raton Properties
Residents of Boca Raton properties are surrounded by breathtaking beauty, in addition to enjoying a lifestyle imbued with activity and culture. Stunning beaches are accessible from all parts of Boca Raton, with pristine expanses of waterfront perfect for lounging, swimming, sailing, snorkeling, waterskiing, and so much more – white sand and clear blue water are at your doorstep. World-class golf courses, sports facilities, recreational centers, city parks, pathways, trails, and playgrounds are scattered throughout the area, ideal for hiking, walking, cycling, and playing.
Discover the array of historical sites and monuments that provide a glimpse back into Boca Raton's rich and colorful histories, or head to the nature center or botanical gardens to learn more about the tropical flora and fauna of the area. Art galleries, museums, festivals, events, musical and performing arts, boutique and major retail shopping are yours to discover, and upscale and casual cuisines from every corner of the world will satisfy all palates. Highly-rated private and public elementary, middle, and high schools are located in Boca Raton, with world-renowned post-secondary institutions, major employers, and health and professional services.
Work with a local expert to find the perfect Boca Raton home. Haftel Estates would be happy to show you homes, guide you through the offer process, and negotiate a sale. Feel free to contact us for answers to your questions!
Homes for Sale in Boca Raton