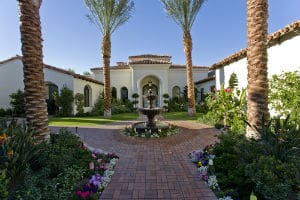 The homes for sale in Sun and Surf are exclusively estates, both waterfront and dry. They wind along the canal access or back onto the lush greens of a nearby golf course, both offering vistas of Boca's natural surroundings. When the quieter waters of the Intracoastal won't fit the bill, a path cutting through the park takes residents down to the coastline, where sandbars meet the lapping waves.
The tiled terra cotta roofs and peachy tones of the Mediterranean styled homes are staples in this Boca neighborhood. Each home has a unique flair to the style, ranging in height or playing with blends of modern styles.
Sun and Surf, Boca Raton Homes for Sale
Sun and Surf, Boca Raton homes for sale are beacons of maritime activities. The coastal homes allow residents to dock their yachts and enjoy the South Florida climate or act as a launching pad for an at-sea adventure.
Mariners often opt to live in Sun and Surf, given the short distance between their large docks and the inlet. A weekend escape on the Atlantic is just minutes away, and enough space for large yachts makes it easy to spend time at home.
Beachfront living in Sun and Surf is defined by its surroundings. Just across the highway are both Red Reef Park and South Beach Park. For a day outside yet not near the water, walk over to the Red Reef Park Executive golf course.
If you're ready to find the perfect home in Sun and Surf, contact the Haftel Estates today!