Imagine unwinding at the end of the day in a luxurious home designed with creature comforts in mind. You've set your sights on living in the glorious Sunshine State, and have narrowed the field to the lavish city of Boca Raton. Now, daydream the dream of buying a house with waterfront views, mature landscaping, and rich features – all tucked safely into a gated community with a 24-hour guard — and convenient access to work, schools, shops, restaurants, and recreation. When you can imagine this opulent lifestyle, you could be honing in on The Shores at Boca Raton.
The Shores at Boca Raton is a community of one and two-story single-family homes nestled in west Palm Beach County in Boca Raton, Florida. The neighborhood nests against a natural preserve. The Shores at Boca Raton is also located across the street from South Community Regional Park. In addition to the bountiful amenities in The Shores subdivision, the park offers sports courts, fields and diamonds, playgrounds, lakes, an amphitheater, a public golf course, and a waterpark — all within a stone's throw from home.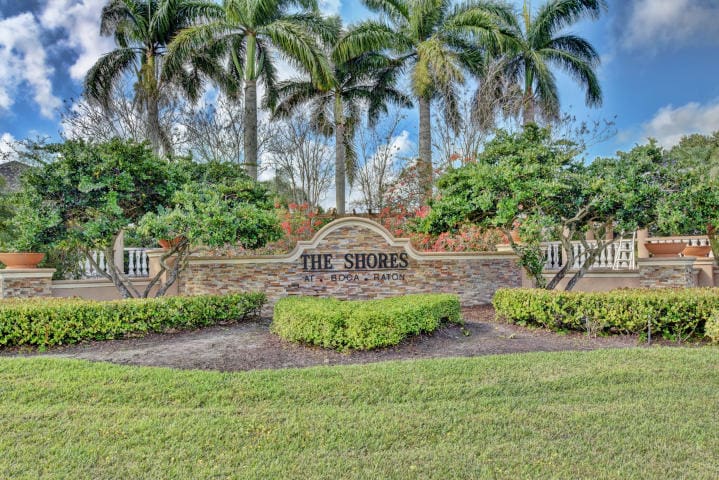 The Bountiful City of Boca Raton, Florida
Steeped in style and luxury, Palm Beach County's Boca Raton offers a generous helping of the
finer things in life – right at your fingertips. Florida seduces its residents and visitors with near-
perfect temperatures that rarely exceed 92 degrees and don't often fall below 46 degrees. On average, the summer high in Boca Raton, Florida, is around 87 degrees while winter lows hover around 67 degrees. This climate makes the city's golden beaches, sparkling waters, and outdoor recreation even more tantalizing.
There are about 100,000 people who have chosen to live within the 27.2 square mile area of Boca Raton. Residents of the city earn a median annual income of about $71,000, which is well above the state's average of roughly $52,000. Median home values in Boca Raton, Florida, are about $349,000 – or $212 per square foot – with an average of 1,650 square feet.
Fun in the sun may have serious momentum in Boca Raton, but education is also at the forefront. Boca Raton has a multitude of highly-rated public and private schools as well as four local universities.
Getting around town by way of public transportation is simple via the Tri-Rail commuter rail system and by the Palm County bus system, Palm Tran. When you're flying in or out of Boca Raton, there are three major airports in the area and several local airports for private flights. International airports include Ft. Lauderdale-Hollywood International Airport, Palm Beach International airport, and Miami International Airport.
The Shores at Boca Raton
About a mile west of SR7 on Yamato Road, secured behind an immaculately landscaped guarded, gated entrance, is the elite community of The Shores at Boca Raton. Constructed in the mid-1990s by premier builder Kenco  Communities, The Shores at Boca Raton consists of 330 single-family one and two-story homes. There are ten-floor plans to choose from, each with full access to the community's resort-style amenities. The Shores at Boca Raton boasts an active homeowners association (HOA), and an attentive on-site manager.
Floor Plans at The Shores at Boca Raton Include:
Brentwood
Carlyle
Dorchester
Dorchester V
EatonFairmont
Hampton Court
Imperial
Jaymont
Kensington
Houses for sale at The Shores at Boca Raton range in price from the mid $300,000s to $650,000s with sizes from 2,200 to 3,500 square feet and offer three to six bedrooms. Some properties offer waterfront views of the six lakes spread throughout the neighborhoods.
The Homeowners Association at The Shores at Boca Raton
The Shores at Boca Raton is a community governed by a homeowners association, also known as an HOA. Your HOA provides a list of bylaws and regulations, but also organizes and oversees planned social events for residents. For more information, contact:
The Shores at Boca Raton
18900 Ocean Mist Drive
Boca Raton, Florida 33498
(561) 883-5240
http://www.theshoresatboca.com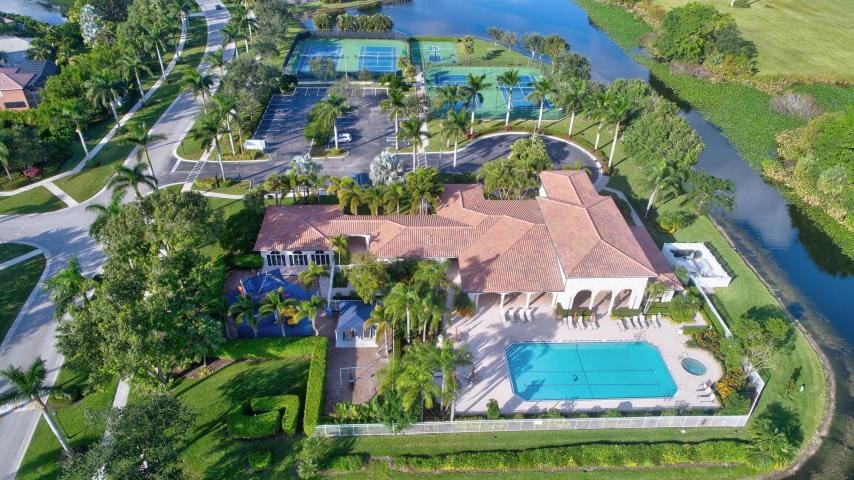 Amenities at The Shores at Boca Raton
The Shores at Boca Raton prides itself on a wide array of upscale amenities.
The Clubhouse: Take advantage of an 8,000 square foot clubhouse featuring a catering kitchen, exercise room, great room, and a multi-purpose room with card tables and chairs. As an added benefit, residents can rent the clubhouse for special occasions and events.
Playground and Kids Club: Tiny tots and wee ones can expel their energy at a custom play area that includes a climbing structure, shaded picnic area, and swings. Connected to the playground is a freestanding kids club that has child-sized bathrooms, a kitchenette, and an indoor space with toys and games that have been donated by community members.
Swimming Pool: Sparkling waters shimmer in the Olympic sized heated pool. Get in a good workout by swimming laps, or relax and unwind floating weightlessly under blue skies. Then, enjoy a soak in the adjoining hot tub. When finished, step into the steam room — all while your personal belongings are stored in a convenient locker room.
Sports Courts: Get your game on with basketball on the half-court, or try your hand at tennis on one of four tennis courts, two of which are lit for nighttime play.
Security: As a resident of The Shores at Boca Raton, you'll be protected from unwanted solicitors and uninvited guests. While you'll have electronic access for quick and easy entrance, guests to the community must be on an approved list and show their identification to the guard to be allowed through. You can add or remove guests from your list with the convenience of an app on your smartphone.
Burt Aaronson South County Regional Park
While the park across the street doesn't technically count amongst the amenities of The Shores at Boca Raton, you can't deny the benefits of having a park practically in your yard — especially a park-like Burt Aaronson South County Regional Park. The recreation area offers ball courts, diamonds, and fields as well as bicycle paths, the Daggerwing Nature Center, an amphitheater, 27-hole golf course, waterpark, lakes, and more – all just steps from your front door.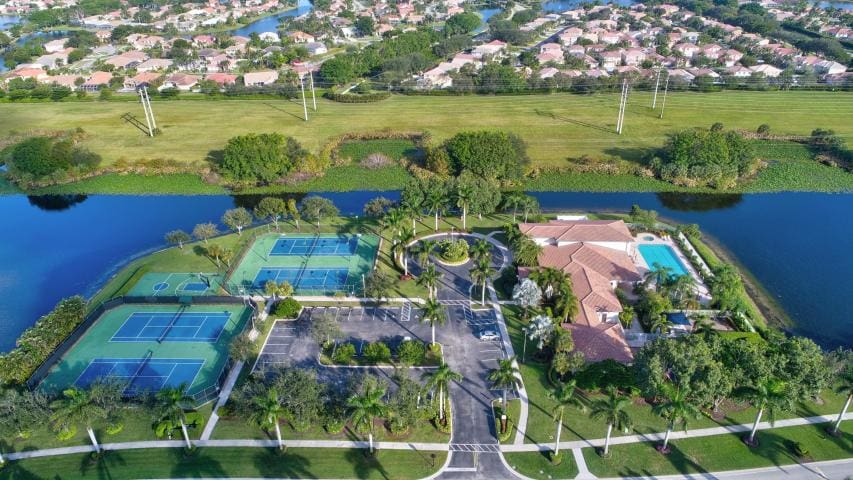 Schools Zoned for Students Living at The Shores at Boca Raton
The schools zoned for The Shores at Boca Raton are part of the School District of Palm Beach County. Public schools include:
Sunrise Park Elementary School
19400 Coral Ridge Dr, Boca Raton, FL 33498
Phone : (561) 477-4300
http://spes.palmbeachschools.org
Water's Edge Elementary School
21601 Shorewind Dr, Boca Raton, FL 33428
Phone : (561) 852-2400
https://wees.palmbeachschools.org
Eagles Landing Middle School
19500 Coral Ridge Dr.
Boca Raton, FL 33498
Phone: (561) 470-7000
http://www.eagleslandingmiddle.com
Olympic Heights Community High School
20101 Lyons Rd, Boca Raton, FL 33434
Phone : (561) 852-6900
http://www.ohchs.com
West Boca Raton High School
Address: 12811 Glades Rd, Boca Raton, FL 33498
Phone : (561) 672-2001
https://wbrh.palmbeachschools.org
There are also a wide variety of prestigious private schools throughout Boca Raton.
Higher education has its respected place in Boca Raton with two public and two private universities in the vicinity including:
Florida Atlantic University (public)
Lynn University (private)
Palm Beach University (public)
Everglades University (private)
Conclusion
Boca Raton is infused with comfort, style, and luxury. The city relishes in lavish dining, shopping, and unrivaled recreation. But it's also recognized for low crime rates, high standards, and optimal opportunities for employment and education. Choosing Boca Raton, Florida as your city wasn't a difficult choice. Finding the right home may just be one stop away at The Shores at Boca Raton.
Living at The Shores at Boca Raton provides you first and foremost with a safe, gated, guarded community built on comfort and style. Once inside the neighborhood, you'll quickly discover an array of exciting amenities, including a clubhouse, fitness area, swimming pool, playground, and more. Plus, it's right next door to an impressive park with additional amenities for you to enjoy right there at home. And, The Shores at Boca Raton also neighbors a natural preserve.
Choose from ten unique floorplans suited to your needs, from as few as three bedrooms or as many as five in a one or two-story single-family home. Feel secure knowing your students are attending high-quality private or public schools nearby,
or pursuing higher education at a local university. When you're ready to venture away from home, know that you're a hop, skip, and a jump from just about anything your heart desires for food, fun, and social activity. In Boca Raton, you're
moments from the beach, parks, golf courses, shopping malls, fine dining establishments, and endless sources of entertainment.
When you're house-hunting in Boca Raton, Florida, consider The Shores at Boca Raton, a mature community of three to five-bedroom homes with lavish landscaping, security, and all the amenities needed to live up to your daydreams of your new lifestyle — including an 8,000 square foot clubhouse for entertaining and an Olympic sized pool for exercise or relaxation.
Welcome home to The Shores at Boca Raton.
Have Questions? Ask Haftel Estates Team
We would love to answer your questions about the area and show you available homes for sale. Give  Haftel Estates a call at561.526.5990.