The pull is undeniable: Florida's Boca Raton is waiting to welcome you home.
Situated in southwest Palm Beach County, Boca Raton encompasses 27.2 miles of luxury, upscale shopping and dining experiences, golden beaches hugging sparkling waters, team spirit celebrating a variety of professional sports teams — and a lifestyle second to none.
Boca Springs, a planned community featuring five shimmering lakes and an array of amenities, could be the ideal subdivision in which to look for the house of your dreams.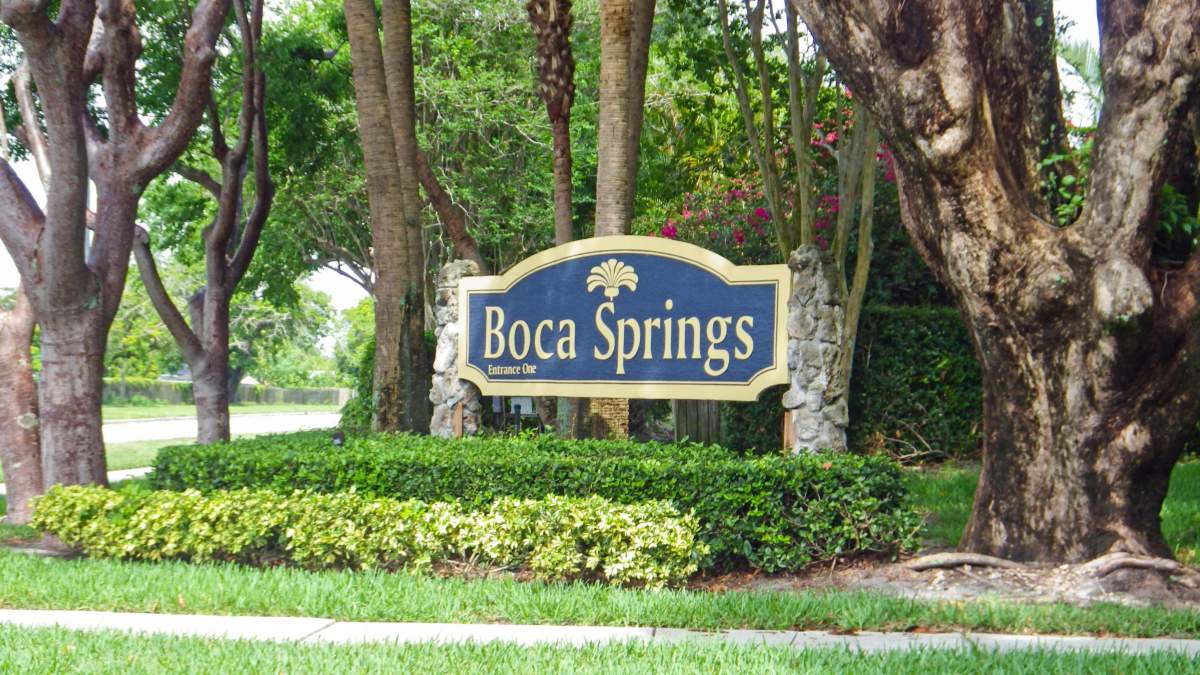 Your City: Living in Florida's Boca Raton
Getting in, out, and around Boca Raton is a breeze with the Tri-Rail commuter system, the Palm Tran county bus system, and three nearby major airports in addition to smaller local airports for private flights.
Nearby major airports include:
• Ft. Lauderdale-Hollywood International airport
• Palm Beach International Airport
• Miami International.
Whether you travel for work or play, Boca Raton makes it easy to come back to the comforts of home.
Education is a priority in Boca Raton, home to an impressive combination of public and private award-winning schools, including four universities for higher education.
Boca Raton has adventure and entertainment at every turn, and near perfect weather to enjoy it all with average temperatures ranging between 58 degrees and 89 degrees. The area enjoys 231 sunshine-filled days annually and 141 days with measurable precipitation producing about 60 inches of rain per year.
There are 100,000 residents who have chosen to settle in to Boca Raton, Florida. Among them, the median household income is $71,000, substantially above the state's median household income of $52,000. Median home values in Boca Raton are around $350.000.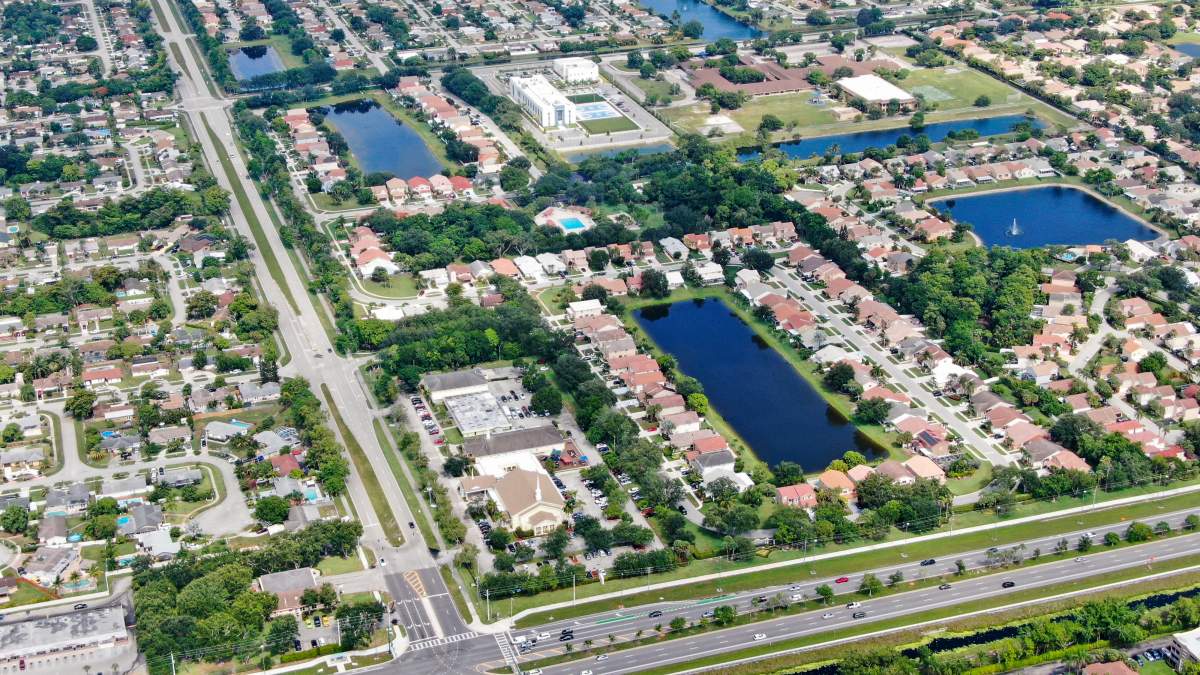 Homes for sale in Boca Spring
Finding Your House at Boca Springs in Boca Raton, Florida
You've wisely chosen Boca Raton as your city. The journey continues to find the right house, and also the right community in which to buy your home. Your house should be rooted in a neighborhood that best suits your lifestyle.
Boca Springs is a well-managed sub-division in western Boca Raton with just the right amenities out your front door, and endless possibilities for business, education, recreation, and entertainment within minutes from home.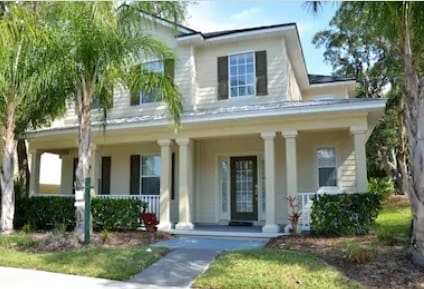 Boca Springs is comprised of one and two-story homes ranging in size from 3 to 5 bedrooms, with spacious floor plans, and single or multi-car garages.
Houses in Boca Springs homes are approximately 1,500 to 3,000 square feet or more with median home values of $400,000, or about $167 per square foot.
Within the Boca Springs neighborhood, you have the option of purchasing a waterfront property for remarkable views and easy boat access.
The Amenities at Boca Springs
Soak in the sun and swim a few laps in the community pool, burn off adrenaline and stress at the basketball court or challenge a friend to a game of hoops.
Is tennis your preferred sport? Engage in a game of tennis without ever leaving your neighborhood.
Take the little ones to the area playground for an afternoon of outdoor fun.
You can enjoy a walk, jog, or bike ride along meandering sidewalks amidst beautifully landscaped common areas.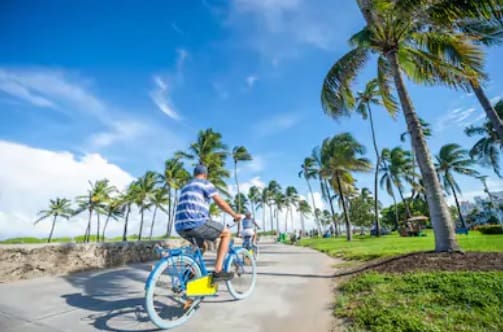 Or better yet, take the boat out for a gentle cruise on one of the community's five lakes that collectively span ten acres of glass-like sparkling waters.
The Homeowners Association at Boca Springs
Homes in the well established Boca Springs subdivision in Boca Raton, Florida are governed by a homeowners association. Homeowners associations are ideal for residents who prefer structured bylaws and regulations that preserve the integrity of the community and help maintain property values.
The Boca Springs Homeowners Association, incorporated by Oriole Homes Development Corporation in the 1990s when the Boca Springs houses were constructed, exists to support the development and well-being of the Boca Springs planned community.
Among the association's board of directors are five-member/owners who are elected in March of each year at the annual meeting.
Crest Management Group expertly manages the community property of the Boca Springs Homeowner's Association. The Boca Springs property runs west of US 441 along the north side of Judge Winnickoff Drive in the 33428 zip code.
The Boca Springs Homeowners Association can be reached c/o Crest Management Group, Inc. at 4413 Congress Avenue #100 in Boca Raton, Florida 33487, or by phone at (561) 994-2334.
Schools Zoned for Boca Springs
Education is paramount in Boca Springs, demonstrated by award winning public and private schools. Schools zoned for Boca Springs include:
Coral Sunset Elementary School
22400 Hammock St
Boca Raton, FL 33428
Phone: (561) 477-2100
Logger's Run Middle School
11584 W Palmetto Park Rd
Boca Raton, FL 33428
Phone: (561) 883-8000
West Boca Community High School
12811 Glades Rd
Boca Raton, FL 33498
Phone: (561) 672-2001

Public schools zoned for Boca Springs in Boca Raton are part of:
The School District of Palm Beach County
Fulton -Holland Educational Services Center
3300 Forest Hill Boulevard
West Palm Beach, Florida 33406
Phone: (561) 434-8000
Higher Education near Boca Springs
Nearby public universities include Florida Atlantic University and Palm Beach University. The area's private colleges are Everglades University and Lynn University.
Florida's weather lends itself to outdoor recreation. Although the Boca Springs community features sports courts, playground, and swimming pool, there are a variety of nearby parks that offer an array of recreational opportunities. Soak in the sunshine, surround yourself with the beauty of nature, enjoy a picnic, or play frisbee with the dog. Living in Boca Raton an literally be a walk in the park.
Parks in the area include:
F & A Park
Powderhorn Park
Mission Bay Community Association Park
Wind Jammer Park
Watergate Estates Park
Sandalfoot Cove Park
Veterans memorial park
Loggers Run Park

Photo Credit: SouthFloridaFinds.com
Shopping Near Boca Raton's Boca Springs Community
Whether you're making a quick trip to the supermarket, focusing on home improvement, getting pet supplies, or shopping for gifts or personal trinkets and treasures, there are shops nearby when you live at Boca Springs.
While Boca Raton is chock full of the finer things in life, you won't have to travel far to shop. Nearby malls include:
West Boca Square
Westwinds of Boca
Shoppes at Logger's Run
Got Golf? Boca Raton Does!
Living at Boca Springs in Boca Raton, you're never far from the greens or the luxuries of country club life. Sharing Boca Spring's 3328 zip code include:
Boca Dunes Golf and Country Club
Boca Woods Country Club
Boca Raton Municipal Golf Course
Conclusion
You may have chosen Boca Raton because it makes sense for your business needs. Or, the fun in the sun lifestyle that beckons you to the golden beaches and sparkling waters Florida is known for. Luxury and comfort permeate the city, making it the ideal place to nestle in at home — not just any home, but your home at Boca Springs.
When you live at Boca Springs, you have the convenience of living in a non-gated community so your guests need not fuss with guard-secured entrances. Although an open community, the subdivision is well managed with an active homeowners association in place to protect and preserve the neighborhood and property values.
The mature Boca Springs neighborhood offers community resources like a swimming pool, playground, and sports courts, but is also a stone's throw away from upscale shops, fine dining, golf, salons, and, of course, the beach.
Don't settle when it comes to finding the right house in Boca Raton, Florida. Discover the lifestyle that awaits you at Boca Springs.
Have Questions? Ask Haftel Estates!
Haftel Estates would be happy to show you homes, guide you through the offer process, and negotiate a sale. Feel free to contact us at 561.526.6990 for answers to your questions!