Palm Beach Real Estate & MLS Listings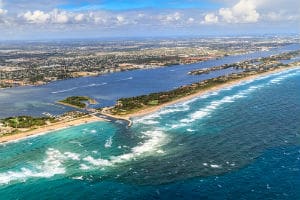 Separated from West Palm Beach by the long lines of the Intracoastal Waterway, the town of Palm Beach is an oceanfront island oasis. Established by Henry Morrison Flagler circa the early 1900s, the barrier island quickly became a resort destination for the nation. Today Palm Beach has continued to foster its reputation as a beachfront getaway, with its world-class beaches, shopping, and weather.
Palm Beach real estate features waterfront condos, estates along the beach, and cozy villas. As such a popular vacation spot with plenty of amenities and attractions, the town has often swayed buyers to make it their permanent home.
Palm Beach Property
Whether you're on the market for a waterfront condo or looking for Intracoastal access, Palm Beach real estate has the options for every buyer. Homes include single-family homes and low- and high-rise condos.
Amenities in Palm Beach include renowned shopping centers, major retailers and more. For anything else, West Palm Beach and other neighboring cities are just a stone's throw away. Leisure and entertainment are part and parcel of living in Palm Beach, where you can take a walk along the beach or stroll down the historic streets and courtyards of Worth Avenue in Midtown.
South Florida, Palm Beach in particular, is an increasingly popular choice for snow birds and seniors looking for a relaxed lifestyle along the calming waterfront. In fact, the majority of the population in Palm Beach is over the age of 65.
Would you like to discuss Palm Beach property? Get in touch with the Haftel Estates today to start looking for your next home.