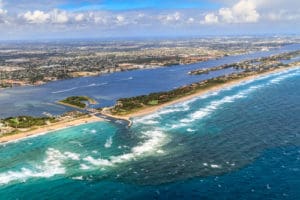 Delray Beach, Florida is home to a population of approximately 65,055 residents living in the 33484 zip code. The average annual household income for Delray Beach residents is roughly $51,551, just above the state's average annual household income of $49,426. Homes in Delray Beach hold average values of about $258,000, well over the state average home value of $179,800. Most of the homes in the area are immaculately maintained beach cottages.
Students living in Delray Beach who attend public schools do so under the watch of the School District of Palm Beach. Within the city limits, ten schools include six elementary, one middle, two high, and one alternative magnet school. However, there are also six private schools throughout the area.
There are myriad transportation options in Delray Beach, Florida including service from Tri-Rail commuter rail system and Amtrak, bus routes via Pam Tran bus service, the Downtown Roundabout Shuttle, and the Downtowner, an on-demand public transportation service. Palm Beach International Airport offers air travel.
Delray Beach, Florida receives, on average, 56 inches of rain per year, which falls over the course of 85 days with measurable precipitation. There is no snow in Delray Beach, Florida. The sun shines its golden rays across the community 235 days of each year, on average. The high summer temperatures are around 89 degrees while winter lows average 58 degrees.
Life is beautiful in Delray Beach, Florida.
Haftel Estates would be happy to show you homes, guide you through the offer process, and negotiate a sale. Feel free to contact us at 561.526.6990 for answers to your questions!
Houses for sale in Boynton Beach are single family homes, with one and two-story variations on the Mediterranean Revival style—think pale stucco and terra cotta roof tiles—that is so often attributed to the area. There is almost an equal divide between the single family houses and condominium complexes, with many of the latter being situated along the Intracoastal Waterway. Just minutes from the beaches, homes in Boynton Beach are found in golf course communities, gated neighborhoods, and other spectacular areas.
Delray Beach Properties
The array of Delray Beach properties is magnificent, with a rich history of architecture dating from the art-deco movement in the 1930s and 1940s to the avant-garde Florida architectural movement with roots in the Bauhaus School, and all the way to the recently created Mediterranean-infused masterpieces. Single-family estates, golf and tennis club properties, and waterfront apartments and condos comprise the array of Delray Beach properties, ensuring that there is something to suit every taste and lifestyle.
Watch the glittering lights reflect on the waterways from your high rise condo, or enjoy a cup of coffee in the morning while watching the sun set over the ocean. Regardless of the home style that you choose, you will be surrounded by tropical beauty.
Live Exquisitely In Delray Beach Homes For Sale
Residents who live in Delray Beach homes can enjoy the best of the outdoors. On any given day, see families and individuals walking along the ocean, or cycling past lively Atlantic Avenue. Lush, green parks are abound in Delray Beach, boasting baseball diamonds, soccer and football fields, tennis courts, and pools, while tangles of trails and pathways are always open to explore by foot or pedal. World class-golf courses, museums, and art galleries are all available to discover in Delray Beach, along with tantalizing restaurants, cafes, and bars.
Head to Pineapple Grove and peek into one of the many boutique shops, art galleries, or cafes. Or, make your way to the beach and try your hand at sailing, surfing, or just take in the magnificent scenery from a lounging chair on the shores. Highly-rated elementary, middle, and high schools are located in and around Delray Beach, along with post-secondary institutions, major businesses and employers, health and professional services, and world-class shopping and dining.
Work with a local expert to find the perfect Delray Beach home for sale. Haftel Estateswould be happy to show you homes, guide you through the offer process, and negotiate a sale. Feel free to contact us for answers to your questions!