Deerfield Beach Real Estate & MLS Listings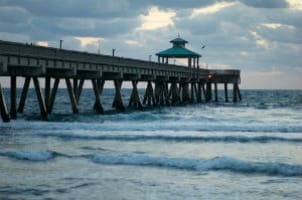 Deerfield Beach is located along the Atlantic Ocean, between Boca Raton and Pompano Beach. To the east is Hillsboro Beach. The city is home to a range of real estate, including luxury condos, estates, and lakefront homes.
What began as a small town along a railroad route has become an international tourism destination, famed for its beaches, attractions, and South Florida weather.
Deerfield Beach Houses for Sale
Incorporated in 1925, Deerfield Beach was a small community based on agriculture. This small area garnered so much popularity as a winter destination that it quickly began to expand. Today it's a tourism destination for anyone looking to soak up the South Florida sun. Visitors are often so smitten with Deerfield Beach that it becomes the next place to call home.
What's particularly striking about luxury homes in Deerfield Beach is the emphasis placed on outdoor living. No expense has been spared on maintaining a South Florida resort lifestyle. Outdoor kitchens play host to wood-fired ovens and fireplaces, while free-form pools feature bars and waterfalls. Courtyards and covered patios are quite common, as are loggias and pool-side lounges.
Homes along the Intracoastal are no stranger to waterfront living, and the homeowners delight in have deep water dockage within their own backyards. If a condo is more your style, the luxury buildings in Deerfield Beach provide the convenience of beach front living and maintenance-free homeownership. From pools to beach access, each condo offers a variety on the appointments and amenities.
Work with a local expert to find the perfect Deerfield Beach home. Haftel Estates would be happy to show you homes, guide you through the offer process, and negotiate a sale. Feel free to contact us for answers to your questions!