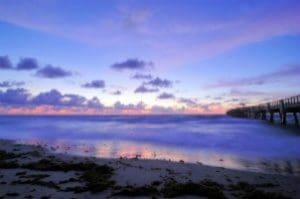 Just 7 square miles, Lake Worth is a beach front city along the Atlantic, nestled between West Palm Beach and Lantana. The town was incorporated in 1912, but had been home to settlers since the late 1860s.
Lake Worth has had many names over its history, but it was ultimately decided that it would be named after the nearby Lake Worth Lagoon.
Lake Worth Homes for Sale
Homes for sale in Lake Worth range from waterfront luxury estates to homes in equestrian communities. No matter where you live, you will have not only Atlantic Ocean views, but also those of Lake Worth Lagoon or Lake Osborne.
Entertainment in Lake Worth is easily facilitated, thanks to the area's growing tourism sector. The downtown core is chock-full of galleries, shops, and restaurants, while the Lake Worth Casino building provides beachfront fun. The Casino building reflects the 1920s style in which the city got its start, although there is no gambling on site. The name simply serves as a historical reminder of the building's origins. Now it houses an ocean front park, with picnic areas for visitors and residents alike. There are also a private ballroom for events, beach bonfire evenings, and views of the pier.
Festivals in Lake Worth are particularly popular. One such example is the Street Painting Festival, which transforms the streets into a scene of illusion creating artscapes. For the avid golfer, there's arguably no better views than those from the fairways of the Lake Worth Municipal Golf Course.
Start you search for homes for sale in Lake Worth. Contact the Haftel Estates at 561.526.6990.
Lake Worth Property Listings